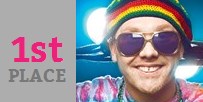 Congratulations to the the winner of VeeWall Vocals 2013 with a Grand Prize of $100,000!
If you voted for him – you helped Polish children too!
Michal said on his Facebook:
Juz powoli dochodze do siebie :)))) A przeciez to MY WYGRALISMY! 100.000$ dla dzieciakow. Bardzo dziekuje Wam za ogromne wsparcie i codzienne glosowanie. Dokonalismy razem czegoś wspanialego. Jestem bardzo, bardzo szczęśliwy! Life is here – dosłownie!
See Contest Results
Organizacja Sie Pomaga