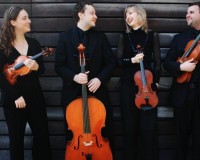 Axiom Quartet is excited to present to you our program of selections chosen for the Mimir Chamber Music Festival. Mimir, a prestigious institute, will take place July 1-7 in Fort Worth, TX at TCU Music School PepsiCo Hall. We are proud to announce we have been chosen as one of the two string quartets to participate in Mimir as Young Artists this year. More on the festival, concert schedule and concert tickets is available on their website: 
mimirfestival.org/young-artist.asp
Our concert at University of St.Thomas in Houston, hosted by UST Music Preparatory School, will be on this Sunday, June 23 at 3PM in Cullen Hall.
Selections will include the dramatic, dark String Quartet No.6 op.80 by Felix Mendelssohn; String Quartet No.12 "The American" by Antonin Dvorak famous for its North American musical inspirations; and a sexy, twisted impression on the Argentinian tango – Astor Piazzolla's "Four for Tango".
We are confident you will enjoy this diverse, exciting program this Sunday!
The concert is admission free, we will accept donations. Thank you!
The parking is free on the streets around UST campus. You can also use parking garage on Graustark St for the flat fee of $2.