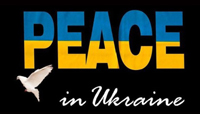 The Ukrainian community in Houston
is organizing a demonstration
and reaching out
to all communities in the Houston area for support.
WHAT:
Trade with Russia supports Putin's destabilization of Europe
WHERE:
The Westin Galleria, 5060 West Alabama, Houston, Texas 77056
WHEN:
Thursday March 27, at 6:00 am – 7:30 am
On March 27, 2014 a U.S.-Russian Chamber of Commerce will be holding a full-day (7:30 am-4 pm) Conference on "Transportation, Logistics, and Customs in Russia from A to Z" at the Westin Galleria Hotel in Houston.
The Houston-Ukrainian community will be holding a peaceful protest on the public sidewalk in front of the Westin Galleria Hotel entrance along the Alabama St that morning from 6 am until 7:30 am. Also those people that can stay longer are encouraged to be there until at least 8:30 am.
The U.S. government together with EU, Canada, Australia and other countries worldwide have called for diplomatic and economic sanctions to be imposed on Russia to emphasize that Putin's total disregard for international law, the 1994 Budapest Memorandum and the brutal violation of an independent and sovereign country's territory will not be overlooked and are simply unacceptable!
Houston-Ukrainians will be there to greet the conference delegates as they arrive, wish them good morning and let them know that the world is watching very closely, watching both actions of the Russian government itself as well as all those supporting it.
We will be there on Thursday to make the delegates aware that by supporting trade during this period with Russia, they are supporting and approving of President Putin's land grab actions and violation of international treaties. Such behavior directly impacts security as well as political and economic stability worldwide.
We urge all parties to bring with them their national flags and posters with key messages supporting this peaceful demonstration. We will also have posters to hand out to those that would like to carry one. All demonstrators will be asked to stay strictly on public sidewalks on both sides of the street and along entrances to the parking garage.
Please join us in making our concerns and worries for Ukraine, and especially Russia's conduct during the crisis, visible to the conference organizers and attendees as well as to the local Houstonians. Please RSVP on either: uacch.net or facebook by Wednesday if you plan to attend and how many people will be in your party so that we can better plan this event.
For more details, see: https://www.facebook.com/events/1433782120199754/
Visit Ukrainian American Cultural Club of Houston at: http://www.uacch.net/?xg_source=msg_mes_network