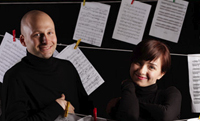 Kupinski Guitar Duo concert: this Saturday, March 21, 2015, 8PM, at Emerson Unitarian Church.
They will be making their Houston debut performing a stellar program featuring the works of Rossini, Chopin, Assad, Granados, Piazzolla, Bogdonovich, and Gershwin. Their program concludes with their own arrangement of Rhapsody In Blue.


Tickets:
$ 30 (Individual)
$ 25 (GH Member)
$ 20 (Student or Child)
For additional questions, check  www.guitarhouston.org or call 281-367-9060.

Venue: Emerson Unitarian Church, 1900 Bering Dr, Houston, TX 77057

Below Ewa Jabłczyńska i Dariusz Kupiński playing with Marcin Dylla, who has performed for Houston Polonia last year.