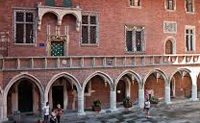 My name is Anna Melnyk, I am Promotions and Communications Coordinator at the Centre for European Studies, Jagiellonian University in Krakow (Poland).
I would like to present you our academic offer for Undergraduate students who would like to spend their year or semester abroad in Poland.
Undergraduate Study Abroad Programme is designed to give undergraduates a comprehensive and in-depth introduction into the complexities of European political, economic, and social realities and to provide a Central and Eastern European perspective on the contemporary as well as historical events and transformations occurring in Europe. Furthermore, intensive foreign language instruction is offered. Students may choose from Polish, Russia, German and French language classes. Each semester integration and study trips are organised to to complement lecture and seminar-style learning, it is our priority to organise study trips so that students can experience the rich cultural life of Poland and Central and Eastern Europe and widen their knowledge of the political, economic and social realities of CEE countries.
Please find full academic offer attached. I would be very grateful if you find a possibility to pass this information to respective members of your organization.
Should you or anybody interested have any questions or need any further information please do not hesitate to contact me directly.
Thank you in advance for your help and collaboration.
Kind regards,
Anna
——————————————-
Anna Melnyk
Communications and Promotions Coordinator
Centre for European Studies
Jagiellonian University
Garbarska 7A
31-131 Krakow, PL
tel: +48 12 429 6207
fax: +48 12 429 6195
www. ces. uj.edu.pl
Application deadline for Spring semester is  December 31.
Download printable brochure