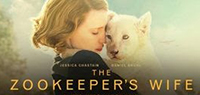 Czech Center Museum Houston sent us an invitation to the FREE screening of  The Zookeeper's Wife, USA film, based on the true story of the Warsaw Zookeepers who saved hundreds of people from Nazi hands.  After their zoo was bombed, Jan and Antonina Zabinski managed to save over three hundred people from the Nazis by hiding refugees in the empty animal cages.  The title role plays Jessica Chastain.
Free to the Public
October 13, 2017,  7.00p.m.
4920 San Jacinto Street, Houston, TX 77004
Phone: 713-528-2060
Museum Hours: Monday-Saturday 10 a.m. – 4 p.m.