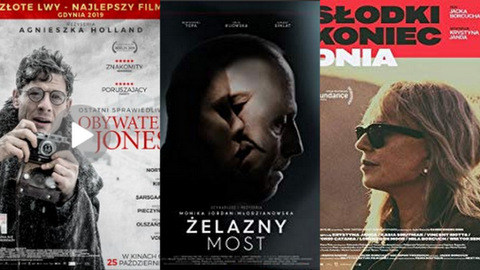 MR JONES – "OBYWATEL JONES" (2019) director Agnieszka Holland, Saturday, November 2, 6 pm
Based on real events, the dramatic thriller "Gareth Jones" chronicles a British investigative journalist as he travels deep into the Soviet Union to uncover an international conspiracy, and Stalin's genocidal famine in Ukraine, which killed almost 10 million in the early 1930s.
THE IRON BRIDGE – "ŻELAZNY MOST" (2019) director Monika Jordan-Młodzianowska, Saturday, November 2, 9 pm
Assigning tasks to miners working underground, foreman Kacper sends his friend Oskar to the deepest and farthest coal seams so that he has more time for secret meetings with Magda, Oskar's wife. One of the lovers' rendezvous is interrupted by a phone call from the mine: after an unusually powerful explosion, there's no contact with the miners working underground. As it soon turns out, no one knows what has happened to Oskar. Deep remorse the lovers suffer makes it impossible to continue their relationship. They both want to compensate for their guilt. The rescue mission is on its way to find and save Oskar.
DOLCE FINE GIORNATA – "SŁODKI KONIEC DNIA" (2019) Director Jacek Borcuch, Saturday, November 2, 11 pm
The stable family life of a poetess begins to fall apart as she makes a controversial speech to appreciation.