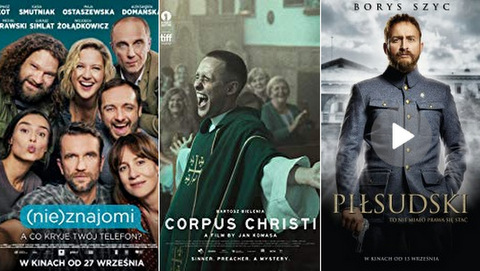 FRIENDS WITH SECRETS – "(NIE)ZNAJOMI" 2019, director Tadeusz Śliwa Sunday, November 3, 4 pm
A group of friends decides that by the end of the dinner to play a game where all phone calls will be in hands-free mode and the text messages should be read out loud.
CORPUS CHRISTI – "BOŻE CIAŁO" – (2019) director Jan Komasa, Sunday, November 3, 6 pm
Inspired by real events, this film is a story of a 20-year-old Daniel who experiences a spiritual transformation in a Youth Detention Center. The crime he commits prevents him from applying to the seminary and after his release on parole he is sent to work at a carpenter's workshop. However, Daniel has no intention of giving up his dream ..
PIŁSUDSKI – "PIŁSUDSKI" (2019) director Michał Rosa, Sunday, November 3, 8 PM
In 1901, a psychiatric hospital in the Russian partition is home to a political prisoner, Józef Pilsudski. The Polish underground independence movement is preparing their mission to rescue the famous activist. Pilsudski is freed, but he will not get back his idyll family life that he once knew.