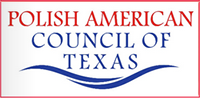 This year the Polish American Council of Texas (PACT) will be having their annual meeting, Polish Independence Day Celebration and Polish Lifetime Achievement Award presentations on Saturday, November 16 in Bandera, Texas.  This year's event is hosted by St. Stanislaus Catholic Church in Bandera and coordinated by the PACT.  Everyone is invited to attend the festivities and celebration honoring our Polish Heritage and please include your children and grandchildren.  Attached is a detailed schedule.  Last year, this event was held in Chappell Hill, this year it is in Bandera and next year on this same Saturday, we will hold this event in Anderson, Texas.  Please make plans to bring your families to be with us for this fun and joyous occasion celebrating our Polish Heritage. Last year, there were 450 people in Chappell Hill and we are hoping to have that many or more this year. 
The event will begin at 10:30 a.m. with an official welcome at the Bandera Courthouse lawn with local officials and Texas Polonia. At 11:30 a.m. we will have a walking procession to St. Stanislaus Catholic Church from the courthouse. Mass will begin at 12 noon and following mass, we will have a meal at the Farm Country Club. There will be entertainment and activities throughout the day and with the recognition of the Polish Texan Lifetime Achievement Award Honoring the late Rev. Stanislaw J. Oleksy S.D.S. at 3:30 p.m. Also, we will have a silent auction to raise money for college scholarships for our youth. Last year, we raised $4,000 for scholarships and we gave four $1000 scholarships to our youth to attend universities. We are a non-profit organization giving back to the Polish community. We are still looking for sponsors and any donation is greatly appreciated!
Sincerely,
Dr. Jim Mazurkiewicz
Texas A&M University
Advanced tickets are $12.  Mail check to PACT, P.O. Box 1357, La Vernia, Texas 78121 before November 8.  Ticket as the door the day of the event will be $15.