You are invited to Axiom Quartet concert Meet Me in Paris at Cullen Recital Hall at the University of St. Thomas on February 8, 2020 at 5 PM.
Admission is free, but donations are appreciated. After the performance, please join us for a French-themed reception in the lobby!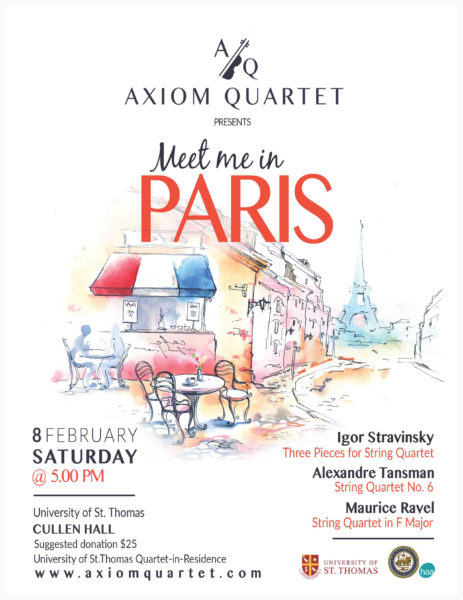 Bonjour!
Our next concert in our 2019-2020 season is titled Meet Me in Paris! As much as everyone knows and loves the music of Maurice Ravel and Igor Stravinsky, the works of Alexander Tansman remain relatively unknown in the United States.  His music, tremendously popular in the musical circles of Paris, was appreciated and supported by his friends and mentors: Ravel and Stravinsky, who immediately invited young Tansman into the ranks of "École de Paris", an organization for foreign-born composers in Paris. Axiom Quartet is proud to present Alexander Tansman's String Quartet No.6 together with the immensely popular String Quartet by Maurice Ravel, an unmatched icon of the Impressionist style. To complete the picture of music in the bohemian Paris of the early 20th Century, we will close our program with Three Pieces for String Quartet by Igor Stravinsky. Come on over and "Meet us in Paris" on February 8 at 5 PM at the University of St. Thomas!
À toute à l'heure,
The Axiom Quartet