Polish Consulate is organizing a very special FREE event: A Day of ZUS Counseling.  Many in Houston have questions related to the years worked in Poland, their retirement and insurance eligibility.
ZUS specialists will be available to answer questions, both generic and individual.
WHEN:   Friday, May 11, 2018 at 5PM
WHERE:  Polish Parish, 1731 Blalock Rd, Houston, TX 77080, MAP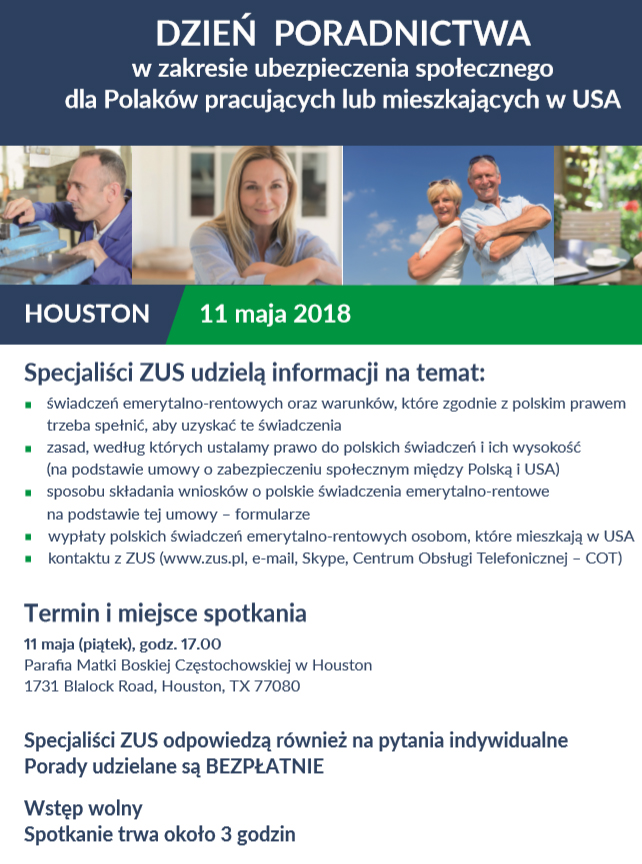 Download printable flyer
Additional information:
Platforma usług elektronicznych ZUS, wygfor all interested is availablodnie sprawnie, bezpiecznie, dla każdego klienta
Emerytury i renty z ZUS ustalane na podstawie umowy o zabezpieczeniu społecznym między Polską a USA
Pracujesz za granicą poza UE, EOG lub Szwajcarią? Przeczytaj koniecznie!
Wypłata świadczeń z ZUS dla polskich kombatantow mieszkających za granicą
Dobrowolne podleganie ubezpieczeniom emerytalnemu i rentowym
Nowa emerytura z Funduszu Ubezpieczeń Spolecznych
Emerytura z ZUS w świetle prawa Unii Europejskiej
Prowadzisz działalność gospodarczą za granicą w UE, EOG lub Szwajcarii? Przeczytaj koniecznie!
Renta rodzinna z ZUS w świetle prawa Unii Europejskiej
Renta z tytułu niezdolności do pracy w świetle prawa Unii Europejskiej
Wiek emerytalny od 1 października 2017 r.